BODY, RECIPE
Celery Juice: Your Healthy Daily Detox
Spring is indeed the time to clean, but it's important to make sure that our bodies are springing forward each and every day no matter the season.  We all want to start each morning with a clean slate.  After a recent visit for my annual exam, my functional medicine doctor recommended that I jump into my morning by drinking celery juice. Now let me make it plain and very clear, this celery juice is not the typical green juice we pick up that consists of the leafy green gamut – kale, spinach, cucumber, ginger, and apple for added sweetness.  No, this is the "Plain Jane" of juice drinks – no frills and thrills!  It's definitely not a juice that shimmers but it is absolutely a diamond encased in these rough and rugged edges – a true gem!  Celery juice is an incredibly powerful and healing juice.  By drinking celery juice every morning on an empty stomach you can transform your health and digestion.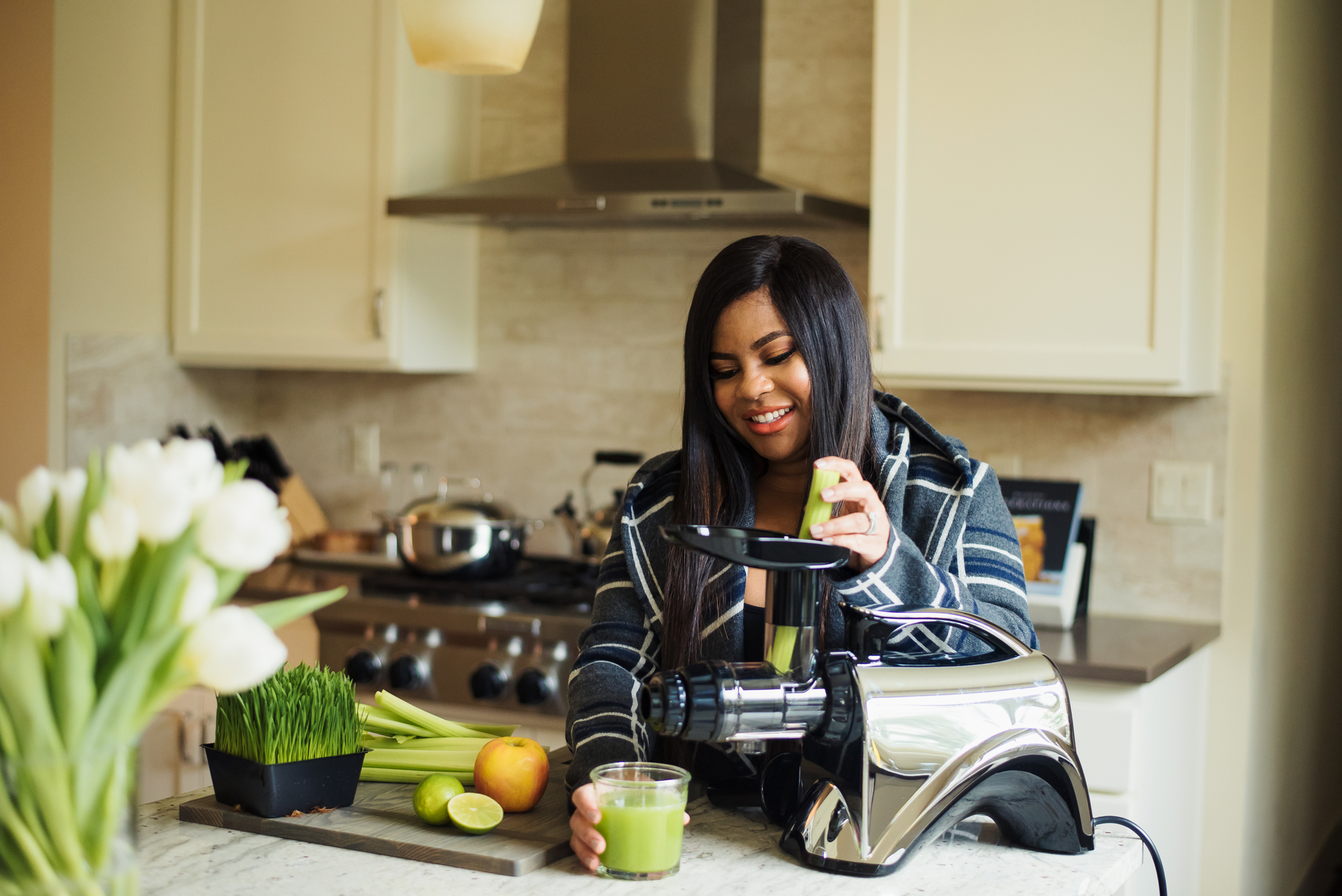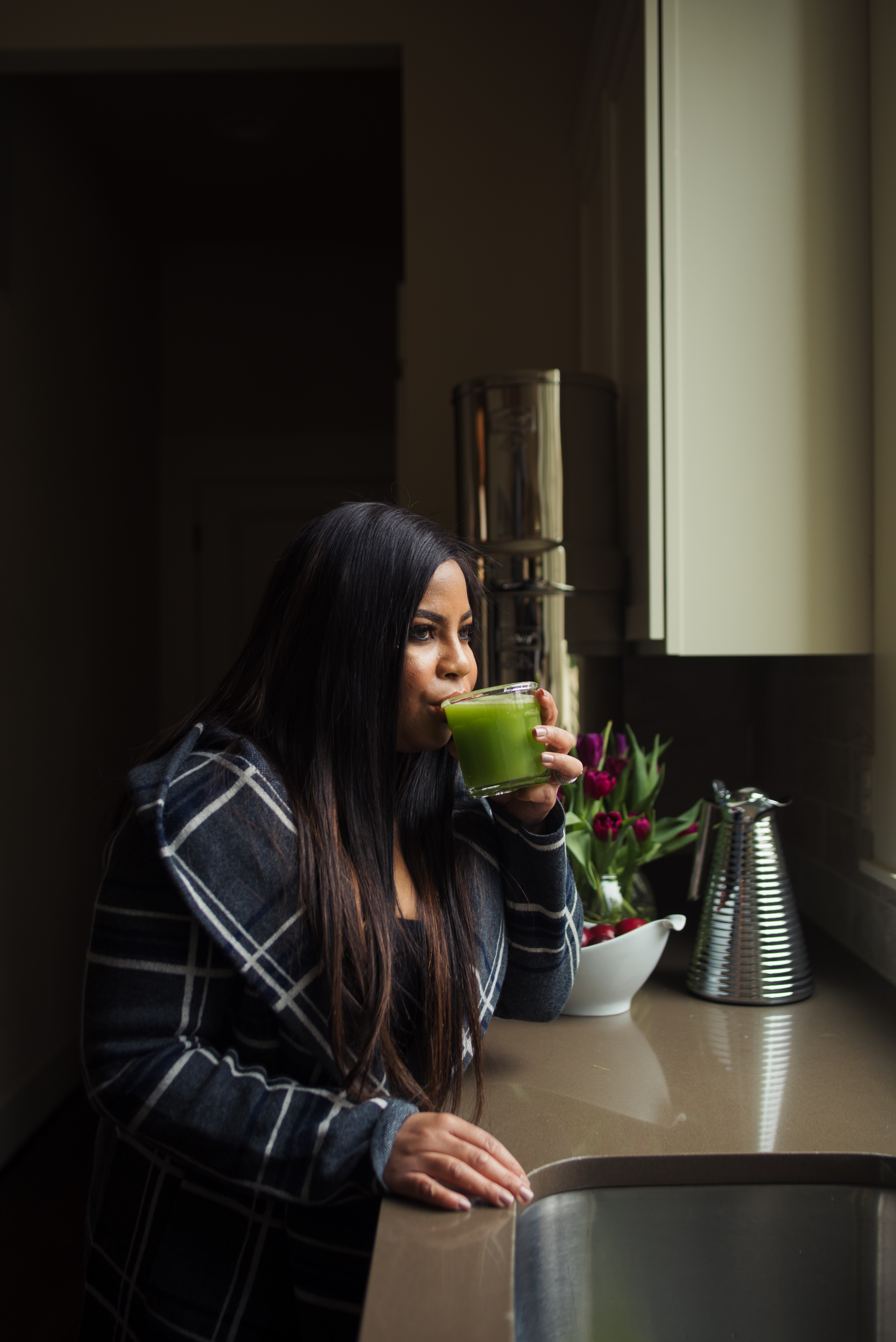 Some of us have become familiar with celery as a great snack, topped with nut butter and raisins. This happens to have been a favorite of mine since childhood.  I loved "Ants on a Log," but drinking celery wasn't a typical recurrent staple in my diet. When my doctor suggested drinking 16 ounces of organic celery juice every day (an equivalent to about one entire bunch of celery) I must admit I wasn't experiencing overwhelming nostalgia and excitement at first mention.  But, upon further research it became more appealing by the minute.  It gained even more intrigue when I learned that it wouldn't only benefit digestion but bring a sense of calm to what has recently been a busy couple of months.   For individuals with anxiety and depression, celery has a calming effect on the nervous system.  It actually provides a double benefit by offering the nervous system support and detoxification, "at the same time."  It is literally your morning "chill pill."  Its ability to sooth nerves and tensions, even makes it great to use as a "night cap," helping you to relieve the stress on the mind, body, and emotions after a long work day.
This green juice, literally sets your nervous system to "chill mode" all while peeling off excess toxins.  The coumarins, in celery, enhance the activity of white blood cells and support the vascular system.  It helps purify the blood stream, reduce blood pressure, and relax the nerves. The vitamin A, magnesium, and iron all help to replenish and nourish the blood, cleansing and restoring at the same time.
Celery is a major alkaline food and with the addition of lime (more alkalizing than lemon juice) it gives a great boost to the digestive system.  We all have heard about lemon water in the morning, well this juice is the boosted up, whole food, new and improved morning starter.  The alkalinity of this juice helps to purge the body of acid and toxins and cleanse the liver and bloodstream in a gentle way.  The gentle detoxification of this juice makes it perfect as an everyday tonic for general health.
This juice is especially beneficial for those who experience frequent bloating, constipation, stubborn weight gain, muscles aches and pains, autoimmune issues (especially Hashimoto's), brain fog, fatigue, and skin conditions like acne, eczema, redness and rashes.
Celery is an effective natural diuretic that reduces bloat and edema – taking away all unwanted puffiness. It improves liver health and it has been found to help you rebuild HCL in your gut, which is crucial for proper digestion and absorption of important nutrients. Low stomach acid often results in indigestion, bloating, and acid reflux.  Research has shown that people with Hashimoto's (an autoimmune thyroid condition) and hypothyroidism often have low, or a depletion of stomach acid. Stress also depletes stomach acid and throws out digestion out of whack.  The natural sodium content in celery raises stomach acid and, when consumed in the morning, sets up your system for easy digestion for the rest of the day.
If all these benefits weren't enough, it is easy to prepare.  It just takes 3 simple steps – "1, 2, 3, Celery."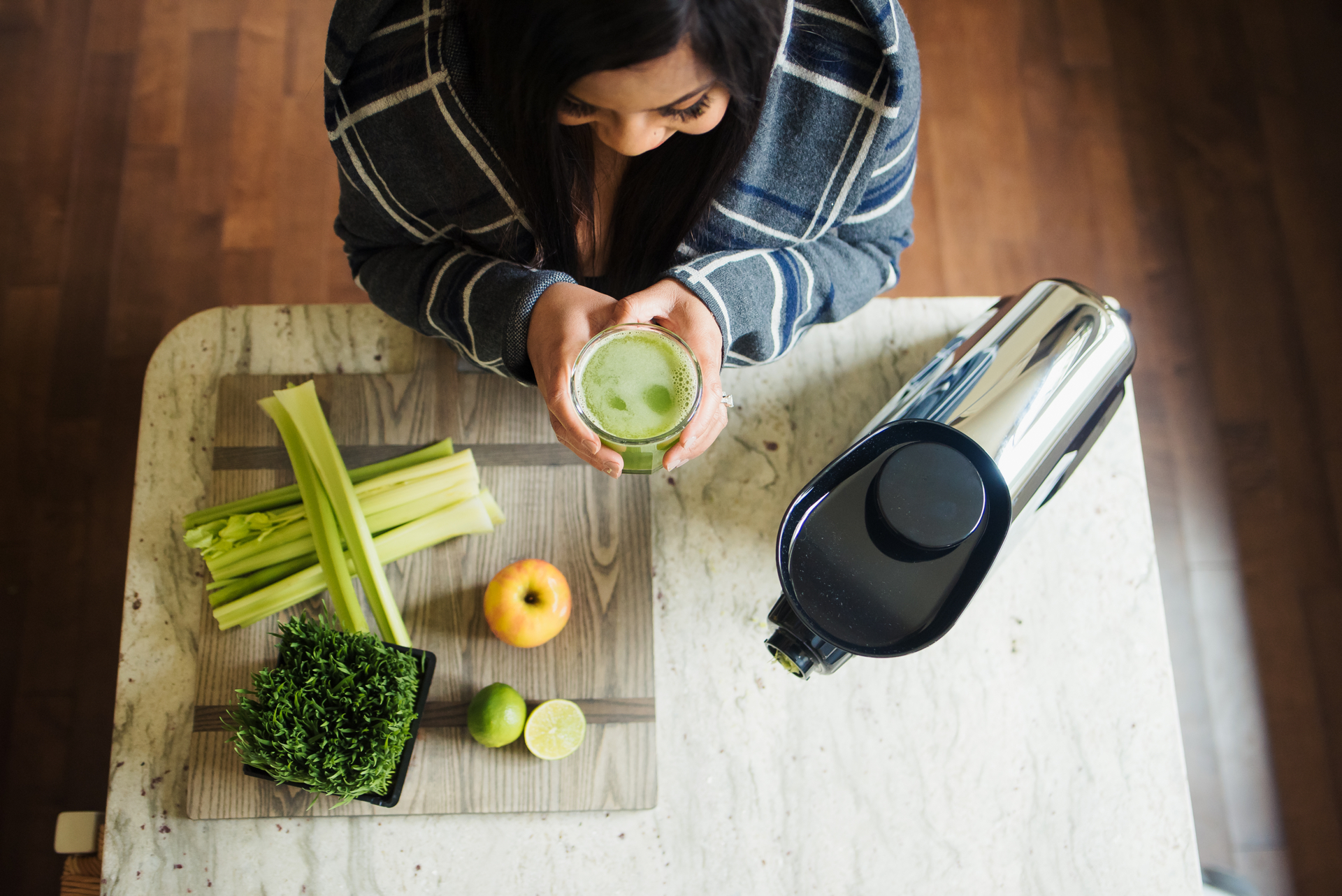 Easy "Good Morning" Celery Juice
Light and refreshing, this subtle juice helps to settle your nerves and gently support your natural detoxification process.  Make it your regular morning juice and bring in some vibrant greens to brighten your day.
Yield: 1 serving (16 ounces)
Recipe Type: Beverage
Ingredients:
1 head of organic celery
1 whole organic lime
Instructions:
Wash and roughly chop the head of celery into workable size pieces.
Cut lime into wedges for easy placement into the juicer
In an electric juicer, juice the celery with the lime.  Drink immediately for the most nutritional benefits.
Note: If using a blender, add a splash of filtered water to the celery and lime and blend for a few seconds until broken down.  Once broken down, pour mixture into a large bowl through a nut-milk bag.  Squeeze out the juice and enjoy!